Ezúttal nehéz dolgom van, mert egy olyan zenekart szeretnék népszerűsíteni, amely nem titkoltan a szívem legmélyebb rejtekében húzódik, és egy ilyen zenekarról mindig nehéz nem elfogultan írni, ugyanakkor vannak olyan alapvetések, amelyekről szinte majdhogynem kötelező említést tenni. Nos ez a csupaszív kanadai zenekar a keresztségben a Protest The Hero nevet kapta, s már 3 nagylemezt engedett ki a kezei közül. (aminek mi természetesen nagyon örülünk) Nem nagyon szeretek zenéket skatulyázni, és nem is szoktam, csupán a műfajok szerelmesei miatt igyekszem már rögtön az elején leszögezni, hogy a Protest The Hero ugyan műfaját tekintve leginkább progresszív metál, illetve mathcore, azonban ha ismerünk más - ezen műfajokat – képviselő zenekarokat, akkor hamar beláthatjuk, hogy bizony a Protest The Hero több, mint matek.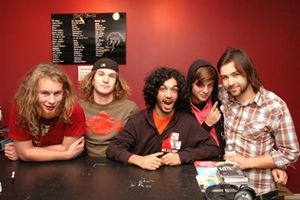 Sok helyen fellelhető a neten a lovagmetál kifejezés, ami hozzám közelebb áll, és örülök, hogy mások is "meglátták" ezt a tényt, a zenét mélyebben tanulmányozva! Hazánkban egyébként már három alkalommal is jártak, és reméljük, hogy a jövő évben is megörvendeztetik a nagyérdeműt egy klassz kis klub bulival! Máskülönben, aki szereti a néhol már filmbeli, vagy képi dalszövegeket, az mindenképpen írja be a google-be a következő kifejezést: "protest the hero download". Köszönjük. A srácok ugyanis, akik megszövegezik a képies dallamokat (Rody Walker – ének, Arif Mirabdolbaghi –basszusgitár) nem a "szánszkrájszt-féle" szövegalkotás képletét alkalmazzák:
(set me free + can't you see)
-----------------------------------------
far away
Mellesleg meg jó ránézni a zenekarra csak úgy simán; végre nem egy félhosszú-egyenes hajú csőfarmeros, tágítós, toroktetkós csapatról van szó, akik épp most léptek le a Kerrang címlapjáról! Klipjeikről csak annyit, hogy legyen szó akár repülő, lila majmokról, akár kivégzést váró katonákról, biztos, hogy beleég az ember retinájába egy életre! Egy szó, mint száz! Egy kiforrott zenével állunk szemben, amihez tény, hogy idő kell, míg az ember megemészti, de talán akik túlságosan tisztelik a megszokott ütemeket, és nem szeretik a tört, matekos dolgokat, azok inkább ne erőltessék!