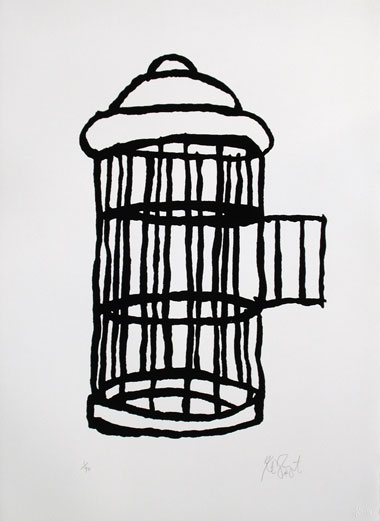 Az itt látható kép a zsenális író, Kurt Vonnegut alkotása, a városi legenda szerint halála után bukkantak rá az alábbi röpke felirat kíséretében: "Kurt Vonnegut, Jr. 1922-2007," "Free at last" Azaz ezzel a szimbólummal ünnepelte a 84 éves földi raboskodás végét… Mielőtt messzire vezető filozófiai fejtegetésbe fognék, elégedjünk meg annyival, hogy Kurt nem csak rendkívüli szatíra, hanem kiváló firkamester is volt (a firkát ne tessék lebecsülni, abban van az Élet Sója…;)
Kár lenne a végletekig menni egy ilyen szép hétvége kezdetén, vessük bele magunkat a földi szabadságok képzetébe!
Következzék egy Nagy Hang, alias George Michael. Az első Freedom 1984-ben született, nagy kedvencem lett, mikor nővérem karira megkapta az original The Best of Wham! kazettát (ezen voltak a Wake Me Up… , meg a Last Christmas slágerek is) Ezúton rebegek hálát néki, egyúttal Vonnegut ajnározásáért is.
Élvezzük a zenét, éljen a diszkó!!!
Amúgy a klip a kínai Wham! Turnén készült, a felvezető politikai monológért én kérek elnézést…
A második Freedom már, mint önálló G. M. darab fut, a névazonosság elkerülése miatt az évszámot jelző '90-es jelzőt kapta. George ebben a dalban finom utalást tesz titkos, khm, kettős személyiségére vonatkozóan... Mondanivalóját a leplezés és az esztétikai minőség érdekében híres topmodellek szájába adja…no, de minket nem ver át!!:D
Nekem mindkettő bejön, és Neked? Szavazzatok!!