Felveszem a legszebb kockás ingem,
összefogom pár szál hajam,
legurítok pár sört a Crataegus-ban,
hogy erre a zenére Supersonic-usan elsírjam magam...
Írta, Töki verse...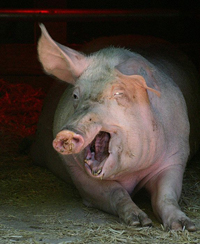 Hol is kezdjem? Egyszer volt egy legendás magyar doom zenekar, apjai Mood-nak nevezték el. Egyik ítélkezett, másik küldte a mocsárba, iszapba... Vagyis osztódott, mint a bacilus. Lett Wall of Sleep és Stereochrist. Ha azt vesszük, hogy a Mood 8 évet élt és az utóbbi két zenekarnak ma lesz a 10 éves jubileumi koncertje, akkor épp érett korba léptek a srácok...;) A magyar underground kiválóságai zajongtak vagy zajonganak itt. Nem megyek bele kik és mikor, be van címkézve... Nem is ez a lényeg, hanem hogy a kockás ing és Down póló a megfelelő dress code... a sörszag meg elengedhetetlen. A családcentrikus hangulatról pedig DJ Igor gondoskodik. A buli részletei itt!!! De 1 ruggancsért kapunk 10 koncertet, a skatulya változatosság pedig garantált: doom, sludge, southern, stoner csipetnyi death-el. Csak a rend kedvéért a Crataegus magyarul annyit tesz Galagonya. Vagyis a Galagonya utcában fellelhető Galagonya söröző a versben említett alapozó hely. Már a rómaiak is itt rendeltél a "házmestert", nem hiába építették oda azt a böszme amphiteátrumot...;) A legszőröstökűbb buli a városban!!!